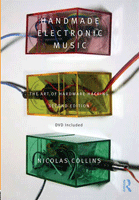 Nicolas Collins + Oscillatorial Binnage + Paul B. Davis + Resonance Radio Orchestra
Sunday 31 January 2010 at 8pm
Nicolas Collins makes his first London concert appearance since 2004's epic "Feedback: Order from Noise" tour. He performs three typicallyextraordinary works which draw on a lifetime of building radical new electronic instruments. A composer who has worked notably with Alvin Lucier and David Tudor, since 1997 Collins has also been editor-in-chief of the Leonardo Music Journal, and since 1999 a Professor in the Department of Sound at the School of the Art Institute of Chicago. The second edition of his acclaimed book, Handmade Electronic Music The Art of Hardware Hacking, was published by Routledge in 2009.
www.nicolascollins.com
Following concerts at Tate Modern, Atoms to Patterns, Show Flat and the First Last LMC Festival, the neo-primitivist multimedia electroacoustic quartet Oscillatorial Binnage join Collins on the bill, alongside Paul B. Davis the only DJ to ever get thrown off stage at the Technics/DMC World DJ Championships premières a new solo piece which he describes as probably a longish song.
The Resonance Radio Orchestra presents a radiophonic sketch based on surreptitious recordings gathered as part of a commission of Ed Baxter by Dundee's prestigious Kill Your Timid Notion festival.
Links: